The leader of the team was Professor Xavier, a wheelchair-bound telepath who ran a school for gifted youngsters who were all secretly mutants. Feared by ordinary people, The X-Men were nonetheless in training to protect humanity from a gang of evil mutants headed by the sinister Magneto [aka Magnus and Erik Lehnsherr]. Magneto had master forger George Odekirk create the identity of Sinte gypsy "Erik Lehnsherr" for him so he could escape his pursuers. He can shape and manipulate magnetic fields that exist naturally or artificially.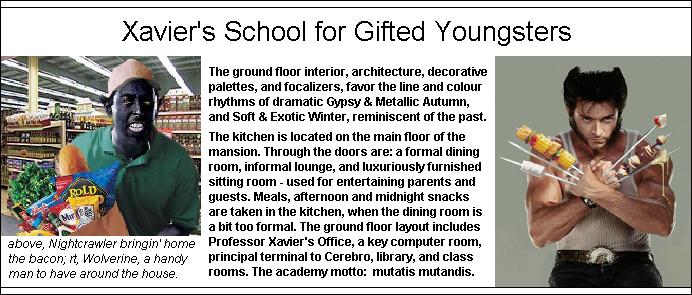 X-KABOBS
Ingredients
4 small boiling onions
1 medium yellow summer squash or 1 medium zucchini
1 cup button shrmx, peeled, stems removed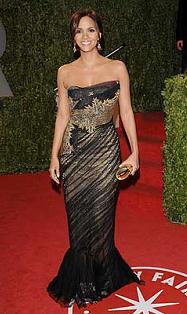 cut into 1" chunks
1/4 cup cooking oil
2 Tbs white wine vinegar
1/2 tsp garlic salt
1/2 tsp dried oregano, crushed
1/4 tsp dried thyme, crushed
dash pepper
corn on the cob, cooked in milk, cut into sections
1 sweet red or yellow pepper
cut into 1 1/4" squares
Directions
Cook corn on the cob in milk, in a large double boiler, until tender. In medium saucepan, cook onions, uncovered, in boiling salted water for ten minutes. Add squash chunks, return to boiling. Cook for 2 to 3 minutes longer; drain vegetables.
For marinade, in bowl combine oil, vinegar, garlic salt, oragano, thyme, and pepper. Add corn, onion, shrmx, squash, and pepper squares. Cover and marinade 6 to 8 hours or overnight in refrigerator, stirring occasionally. Drain, reserve marinade.
Ask Wolverine to fan his claws so you can load the veggies on and Cyclops can cook them. If you are away from Xavier's Academy kitchen, try this alternate method.

On four 8-inch skewers, alternately thread corn, onions, button, squash, and pepper pieces. Place kabobs on rack of unheated broiler pan. Broil 7 - 8 minutes. Brush with a little of the reserved marinade. Turn, broil kabobs for 5 - 6 minutes longer or till brown, brushing occasionally with remaining marinade.
Makes several servings.


Exclusive Interview: Hugh Jackman for "X-Men Origins: Wolverine"
Real name: Ororo Munroe aka Storm

Other aliases: (current) None, (former--in Kenya and Tanzania) "Beautiful Windrider"
Flight speed: Subsonic (when propelled by winds). Storm has the powers of a weather goddess and can manipulate the weather cycle and other elements in a variety of ways (including using wind to give her flight).
Fighting skills: Excellent hand-to-hand combatant, trained by Wolverine
Special skills and abilities: Extraordinary ability at picking locks, excellent markswoman with handguns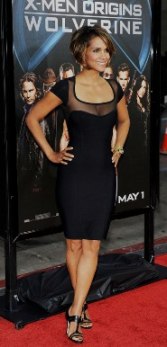 Known superhuman powers: Storm has the psionic ability to control the weather over limited areas. She can fly by creating winds strong enough to support her weight. Storm has limited immunity to extreme heat and cold.
Special limitations: Storm's psionic powers over the weather are affected by her emotions; hence, if she does not maintain control of her emotions, a fit of rage might induce a destructive storm. Also, Storm suffers from severe claustrophobia.
Other accessories: Storm carries lock picks.
Storm now leads the new pared-down team (Wolverine, Marrow, Gambit [Remy LeBeau], Rogue, Shadowcat, Colossus, and Nighcrawler), and they have started searching for Professor X, who disappeared after Onslaught.

Storm's formidable powers include atmospheric construction and deconstruction, as well as her ability to summon thunder and lightning. She is a priestess, descended from an elite tribe of white haired, blue-eyed people in Africa, yet many of her skills resemble those of Indra, patron weather god of India. Her mother, N'Dare, was the princess of a tribe in Kenya. She married the American photojournalist David Munroe and moved with him to Manhattan, where Ororo was born.
Remy LeBeau - Gambit
Real Name: Remy Etienne LeBeau
Point of Origin: New Orleans, Louisiana [on record]
Actor Taylor Kitsch is Gambit in X-Men Origins: Wolverine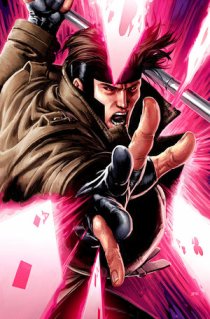 Storm sponsored Remy's admission into the X-Men, where he took the code name Gambit. He gained an equal footing with the X-Men without trouble. Over time, information about his past incarnation in the Thieves' Guild came out. He fell in love with his fellow X-Man, Rogue, blessed and cursed with the ability to absorb other mutants' thoughts and abilities through skin-on-skin contact. The feeling was mutual, but the two soulmates were condemned never to touch.

Gambit can charge objects with kinetic energy, causing them to explode. He is extremely agile and quick, and well trained in the martial arts. His thoughts are hard to control, and his voice is somewhat hypnotic. His power's true potential, though permanently excised now, is to control all manner of kinetic energy, allowing him to fire energy blasts, defy gravity and effectively exist as energy. As the adopted son of the leader of the Thieves' Guild of New Orleans, Gambit is also, needless to say, a phenomenal thief.

Gambit biography
Psycho-kinetic energy associated with the hand, wrist, and fingers - Mercury, the Line of Intuition


Blue food suggestions for the Beast and Nightcrawler [and Mystique, if she's invited]

BLEU CHEESE DIP
Ingredients
1 cup mayonnaise
1 cup sour cream
4 finely chopped green onions
2 tbs parsley
4 oz Bleu d'Auvergne or Fourme d'Ambert
garlic salt


Directions: In a medium bowl, mix, mayonnaise, sour cream, green onions, dried parsley, cheese and garlic salt (to taste). Cover and chill. Serve with blue corn chips, fresh veggies or breadsticks.

The Cutting Edge
It was perhaps inevitable that the most popular of Marvel's mutants would get his own monthly comic book, and it finally happened with Wolverine #1 (November 1988). A hot seller from its first issue, Wolverine brought out a new side in writer Chris Claremont. Removed from the complicated plotting and complex emotional relationships that characterized the X-Men Wolverine's solo adventures had a dark, gritty, hard-boiled quality that suited the menacing, enigmatic hero. ..."It's different," says Claremont, "but it's a different aspect of the same guy."

One of Marvel's old masters John Buscema, provided the pencils for Wolverine, the inks were by another veteran, Al Williamson. Buscena's first work for the company was done in 1948, and he has been working regularly for Marvel since 1966. An artist's artist, Buscema has received offers from other companies, but he always replies, "Where were you when I needed you?"
Tough characters like Wolverine and The Punisher are in vogue, believes editor-in-chief Tom DeFalco, because it's a way of dealing with society's frustrations. These days, people are upset with the way the law works, upset with politicians, upset with everything. They want to see someone actively solving problems instead of just talking about them. The characters that are popular are the ones people need at the time.
- MARVEL Five Fabulous Decades of the World's Greatest Comics


M A G N E T O
Real Name: UNKNOWN (Goes by Magnus, Erik Lehnshier was a fake ID)
Powers: Magneto can manipulate the earth EM field in a variety of ways, including self-propulsion, force fields, magnetic cloaking, attration, repelsion, and can manipulate objects almost at the molecular level.
File: Magnus was born in a Jewish family just before WW2. And we all know what happened in X-MEN, the first film that provides some background history of the tragic plight young Magnus faced as a boy. Although mutants develop their powers at puberty, he was unable to summon his natural gift due to the poor physical condition of the camps and abusive treatment he suffered during his formative years. The adult Magnus/Magneto vowed he would "never again" allow those who were different to be persecuted and hunted like animals if he had anything to say about it. Never again would the helpless be at the mercy of "those jackals". Never again will mutant blood be spilt before the unforgiving feet of the prejudiced humans.
Charles Xavier and Magneto go back a long way. Both exchanged their philosophic views in animated discussions and arguments about how they should use their powers. Xavier strongly supported the belief that mutants should use their gifts to ensure peace between mutants and humans. Magneto held that mutants should use the templates of our current system, rise to power, and being the next stage in human evolution, take their rightful place at the top of the power ladder as the leaders of Earth. The conflict developed by these divergent viewpoints is the storyline for the film X-MEN III.
Magneto is played by Ian McKellen.

HALLE BERRY

Halle Berry is a LEO native [Sol 21° Leo 24' deposited in 10th House of public image, reputation, business success, political activity, government, publicity, and legacy] with her social planets in her MC. Venus in exact conjunction with her radix Midheaven @ 28° Moonchild [Cancer], combines with conjunct Luna, also in her own watery sign of transfiguration @ 25°48' Moonchild. Luna is exactly square the Ascendant @ 24° Libra 24'.
scroll to star chart note about Dorothy Dandridge who had a strong Leo/Moonchild aspect as well
Halle Berry has developed her acting skill so that it will direct emotional feeling on the screen via the versatile characters she portrays in blockbuster movies. Berry was born with an 8 Destiny Path.

Those born under the 8 Destiny or Vocation excel in executive ability, especially connected with big business, institutions, and large groups. They will become good organizers in the field they choose. This is a leadership number that indicates success in a worldly or high profile role: lawyers, bankers, brokers, small investor groups and business partnerships are typical. The vibration may seek to "lift the veil" and enter scientific study, lab work, and research that concerns our modern medical underworld, such the search for the cure for AIDS, Cancer, and especially any disease that attacks children.
Thomas Jefferson was a 22-8 and both Jesus Christ and Abraham Lincoln are linked with the 8 vibration. The number 8 is associated with the idea of justice, truth, and beauty that were all once the same word, 'fair.'
go Trump VIII


Women with the Moon in Cancer [Moonchild]
Catwomen on the list are highlighted: Loni Anderson, Adrienne Barbeau, Rona Barrett, Halle Berry, Ethel Barrymore, Annie Besant, Barbara Billingsly, Linda Blair, Mary J. Blige, Emily Blunt, Pearl S. Buck, Capucine, Rosemary Clooney, Jeanne Crain, Dorothy Dandridge, Sandra Dee, Phyllis Diller, Eva Gabor, Janeane Garofalo, Olivia de Havilland, Rebecca de Mornay, Arianna Huffington, Chaka Khan, Eartha Kitt, Patti LaBelle, Stella McCartney, Mary Tyler Moore, Julie Newmar, Annie Oakley, Tatum O'Neal, Aimee Osbourne, Sharon Osbourne, Eleanor Parker, Jane Pauley, Lois Rodden, Clara Schumann, Connie Sellecca, Nancy Sinatra, Suzanne Somers, Mira Sorvino, Maureen Stapleton, Gale Storm, Marlo Thomas, Mae West, Nancy Wilson, and Sean Young
People with Star Charts that feature Double Moonchild, Sun and Moon in Moonchild - Royal Marriage w/i 8 degrees of perfect include
Women: Olivia de Havilland [Destiny 7], Courtney Love [Destiny 9]

Men: Giorgio Armani [Destiny 8], Steve Forbes [Destiny 1], Harrison Ford [Destiny 9], David Hasselhoff [Destiny 9], Roger McGuinn [Destiny 9], David Prowse [Darth Vader -Destiny 8], Jack White [The White Stripes, Destiny 11], and Billy Wilder [Destiny 8]

OSCAR WINNING ACTRESS HALLE BERRY HONORED

WITH 2,333rd STAR ON THE HOLLYWOOD WALK OF FAME

Halle Berry's Star is located at 6801 Hollywood Boulevard in front of the Kodak Theatre, in Los Angeles, CA. - go award ceremony here

§ "This beautiful woman is a triple threat, an old fashioned bombshell and like my mom would say a good egg! By the way, Halle….thanks for wearing the orange bikini (a reference to her Bond film outfit)." -- Tom Rothman, Chairman/CEO Fox Filmed Entertainment

§ "I want to officially state that I am an emotional retard. I am so emotional ... as soon as I saw the crowds of people and friends here, I started to cry. I am going to keep this speech short because I know you don't want another 10 minute speech!" She went on to thank, agents, lawyers and friends as well as Samuel L. Jackson who she mentioned was her first drama teacher when she did the film "Jungle Fever" with him. -- Halle Berry

Academy Award-winning actress Halle Berry continues to break down barriers, working hard to achieve a career most actors dream of having. She stars opposite Bruce Willis in the Sony Pictures thriller, "Perfect Stranger." Her next starring role is in the DreamWorks Picture film, "Things We Lost in the Fire." The third installment of the "X Men" series, directed by Brett Ratner, in which Berry reprised her role of 'Storm,' continued the franchise's worldwide success. In 2006, she also received Emmy and Golden Globe nominations for her acting work in the Oprah Winfrey produced movie "Their Eyes Were Watching God" and as executive producer for the HBO telefilm "Lackawanna Blues."
Halle Berry homepage at TDN
Catwoman - the page for those dedicated to catwoman, #1 Super Vixen
also see Gladiators
Sun Signs The Good and Bad News About Your Sign
Halle Berry Biography * Film History
Silver Age of Marvel Comics

Prepare barbecue (medium-high heat) or preheat broiler. Alternate swordfish with hearts of palm, zucchini and bell pepper on metal skewers. Brush with dressing. Season with salt and pepper. Grill until swordfish is cooked through, about 10 minutes.