STAR MENU Tangerine




In Honor of The Beatles, Led Zeppelin, Tangerine Dream, and The Sopwith Camel

Alfred's Seared Foie Gras with Poached Quince, Tangerine, and Pomegranate Juice

Serves 4
At his Gotham Bar & Grill in New York City, Alfred Portale combines an exotic trio of ingredients—foie gras, quince, and pomegranate—to make this elegant dish. The richness of the foie gras is complemented by the sweet, tangy fruits.


For the quince:
3 medium-ripe yellow quinces, about 1 1/2 pounds
2 tangerines, juiced (about 1/3 cup)
Peel of 1 tangerine
1 cinnamon stick, 1/2-inch long
2 to 3 whole cloves
2 tablespoons chopped fresh ginger
1/2 cup sugar

For the pomegranate juice:
1 large red pomegranate
1/4 cup red-wine vinegar
2 tablespoons sugar

For the foie gras:
1 1/2 pounds fresh foie gras, well chilled
Coarse salt and freshly ground white pepper
4 sprigs fresh thyme
4 sprigs fresh chervil
1 tablespoon reserved pomegranate seeds


1. To make the quince: Slice ends from quince, and peel (a vegetable peeler works well). Cut in half, lengthwise. Remove the tough core, using a Parisian scoop (or a small paring knife). Then cut quince lengthwise into 1-inch-thick wedges. Place in a medium-size nonreactive saucepan, and add the remaining ingredients, plus 2 cups of water. Bring to a boil over medium-high heat. Reduce to a simmer, and cool until quince is tender, about 8 to 10 minutes. Remove from heat.

2. Remove quince slices and tangerine peel with a slotted spoon. Strain poaching liquid and discard aromatics. Julienne tangerine peel, and return it, along with quince, to poaching liquid. Keep warm. If preparing in advance, let cool in poaching liquid. Cover, and refrigerate.

3. To make the pomegranate juice: Cut pomegranate in half, and juice just as you would a citrus fruit. In a small nonreactive saucepan, combine pomegranate juice, vinegar, and sugar. Bring to a boil over high heat. Reduce heat and simmer for 6 to 7 minutes, until slightly thickened. Set aside.

4. To make the foie gras: Separate the two lobes of the foie gras, and cut away any excess fat found at the point of separation. Using a sharp, thin bladed knife (dipped in hot water), cut foie gras crosswise into 1/2-inch thick slices. Score one side of each slice of foie gras in a crosshatch pattern. Cover with plastic wrap, and refrigerate until ready to cook.

5. Remove foie gras slices from refrigerator 15 minutes before sautéing. Warm quince over medium heat if necessary. Heat a 12-inch saucepan over medium-high heat. Season foie gras with coarse salt and freshly ground pepper. Working quickly, sear foie gras slices, crosshatched side down, in batches, if necessary, for about 1 minute. Turn, and cook for another minute. The foie gras should be nicely seared on the outside, yet rare in the middle.

6. To assemble: Arrange quince in the center of warmed appetizer plates. Top with foie gras slices. Drizzle reduced pomegranate-juice mixture around the quince and foie gras, and garnish with herbs and pomegranate seeds.

adapted from Alfred Portale's Gotham Bar and Grill Cookbook

Tangerine Beef Stir-fry
Prep: 20 minutes

Cook: 15 minutes
Makes: 4 main-dish servings

2 to 3 tangerines (about 1 ½ pounds)
¼ cup dry sherry
2 tablespoons hoisin sauce
2 tablespoons cornstarch
2 tablespoons soy sauce
1 beef flank steak (about 1 pound),
Cut crosswise into ¼-inch-thick slices
5 teaspoons vegetable oil
1 bag (12 ounces) broccoli florets
1 tablespoon grated peeled fresh ginger

From 1 tangerine, with vegetable peelet, remove peel. With small knife, remove any white pith from peel; slice peel very thinly and set aside. Squeeze ½ cup juice from tangerines; stir in sherry and hoisin sauce and set aside. In medium bowl, combine cornstarch, soy sauce, and steak; set aside.

In nonstick 12-inch skillet, heat 1 teaspoon oil over medium-high heat until very hot. Add broccoli, red pepper, ginger, and peel to skillet and cook 3 minutes, stirring, or until vegetables are tender-crisp. Transfer to large bowl.

In same skillet, heat 2 teaspoons oil over medium-high heat; add half of beef and cook 2 minutes, stirring, or until lightly browned. Transfer to bowl with broccoli mixture. Repeat with remaining 2 teaspoons oil and beef.

Add juice mixture to skillet and heat to boiling; boil 1 minute. Return vegetables and beef to skillet; heat through.

John Lennon meets Paul McCartney
3.30pm, Saturday 6 July 1957

On the afternoon of 6 July 1957 the Quarrymen skiffle group played at the garden fete of St Peter's Church, Woolton, Liverpool.

As is well known, on this day, at this venue, after this afternoon show, as The Quarry Men were setting up for an evening performance inside the church hall, John was introduced to Paul by mutual friend, Ivan Vaughn.
Paul played Eddie Cochran's "Twenty Flight Rock" for John and he knew the words to "Be-Bop-A-Lula". John was very impressed by Paul and a friendship began. On 18 October 1957, Paul made his debut with The Quarry Men at New Clubmoor Hall.

The earlier Quarry Men performance took place on a stage in a field behind the church. In the band were John Lennon (vocals, guitar), Eric Griffiths (guitar), Colin Hanton (drums), Rod Davies (banjo), Pete Shotton (washboard) and Len Garry (tea chest bass).

The group arrived on the back of a lorry. As well as music, there were craft and cake stalls, games of hoop-la, police dog demonstrations and the traditional crowning of the Rose Queen. The fete was a highlight of the year for the residents of the sleepy Liverpool district.

The Quarrymen's set, remarkably, was recorded by an audience member, Bob Molyneux, on his portable Grundig reel-to-reel tape recorder. In 1994 Molyneux, then a retired policeman, rediscovered the tape, which contained scratchy recordings of the band performing Lonnie Donegan's Puttin' On The Style and Elvis Presley's Baby, Let's Play House.

The tape was sold on 15 September 1994 at Sotheby's for £78,500. At the time it was the most expensive recording ever sold at auction. The winning bidder was EMI Records, who considered if for release as part of the Anthology project, but chose not to as the sound quality was substandard.

try Tangerine-Chocolate Tart and Tea
go Open Plaque Location: Simon Peter Centre, Church Road, Liverpool
Blue Plaques - Liverpool


Led Zeppelin Tangerine
from Led Zeppelin III

Measuring a summer's day
I only finds it slips away to grey
The hours, they bring me pain.

Tangerine, Tangerine
Living reflection from a dream
I was her love, she was my queen
And now a thousand years between.

Thinking how it used to be
Does she still remember times like these
To think of us again?
And I do.

Chorus

below see several from link with - Top 25 Memorable Movie Meals

above, Jimmy Page dines on his break, concert film, The Song Remains The Same
Taped at the London Weekend Television Studios in London with the London Metropolitan Orchestra in 1994.
Page & Plant - Unplugged, Unledded and AWESOME.
Almost Famous, featured Led Zeppelin soundtrack picks include Tangerine

… 25 JuN 1995 Page and Plant Played Glastonbury Festival
Page and Plant played Glastonbury Festival and their coat of many musical colours. Jimmy Page said, "Broadcasted on TV & Radio, it was a little windy that day and the elements made sport with the wind bombarding the sound as it released from the PA speakers and drifted all over the place. But it was exhilarating to play Glastonbury and we played really well to a really enthusiastic audience who were willing us on.


TBL Celebration Day newsletter up now at TBL web
-view it at http://www.tightbutloose.co.uk/tblweb09/?p=16741


Glastonbury Festival

. Monty Python's Meaning of Life (1983) - "Oh sir… It's only wafer thin."

. Billy Crystal and Meg Ryan's orgasmic meal in When Harry Met Sally

. Ocean's 11 soup on the patio with Clooney, Pitt, and Elliott Gould, a tie with the first martini in M*A*S*H swamp scene, where dry martini served the mystery guest receives a proper green olive with pimento

. Harry Potter's dinner at 12 Grimmauld Place in Harry Potter and the Order of the Phoenix - go 12 Grimmauld Place - the Order of the Phoenix

. Indiana Jones and the Temple of Doom (1984) - The chilled monkey brains and eyeball soup were just parlor tricks: It was the "snake surprise" that was the real centerpiece to Indy's most famous meal. go Indiana Jones Marathon Menu

. The Gold Rush (1925) - A broke Charlie Chaplin cuts into shoe leather in lieu of a steak. Inspired a century of cartoons wherein articles of clothing are consumed when actual food isn't readily available.

. Like Water for Chocolate (1992) - Matches: It's what's for dinner.

. Dinner in the shiek's tent - Ben Hur

. Saturday Night Fever (1977) - Tony Manero demonstrates how to eat pizza in Brooklyn: Two slices, stacked atop each other, folded in half and consumed single-handedly. That's class, people.

. Apocalypse Now (1979) - No, not the ritual sacrifice of a caribou at the end. This memorable meal's right near the beginning. "Captain, I don't know how you feel about this shrimp, but if you'll eat it, you'll never have to prove your courage in any other way." I dunno. I thought that shrimp looked pretty good.

. The Lord of the Rings: Fellowship of the Ring - supper on Weathertop - hobbits stir up tomatoes, sausage, and crispy bacon just before several uninvited guests arrive - go Supper on Amon Sul


TANGERINE BISCOTTI

Ingredients

· 2-3/4 cups flour
· 3/4 teaspoon baking powder
· 1/2 teaspoon salt
· 3/4 cup butter, softened
· 1 cup sugar
· 2 eggs
· 2 teaspoons orange extract
· zest of 2 tangerines
· add a taste of Grand Marnier if you like

Preheat oven to 350 degrees F. Grease large baking sheet.


In a large bowl, combine first set of ingredients with a wire whisk. Set aside. Cream butter until fluffy. Slowly add in sugar until combined. Add eggs one at a time and then extract. Gradually, add flour mixture to butter mixture. Combine completely. Hand stir-in tangerine zest.

Evenly divide dough into 2 portions. Shape into 12 inch logs. Place on cookie sheet. Flatten tops until they are 1-inch tall. Bake for 30 minutes. Remove from oven. Place baking sheet on cooling rack. Allow to cool for about 15 minutes. Carefully, cut loaves diagonally into 1/2 to 1-inch slices. Line slices back on baking sheet. Bake for an additional 10 minutes. Remove from oven and turn cookies over. Finish baking for another 5 minutes. Cool Tangerine Biscotti on baking sheets for 2 minutes and remove to wire racks to cool completely.

Makes 24 Tangerine Biscotti Cookies



TANGERINE SORBET This tangerine sorbet is the perfect after dinner treat all year around.

Make this refreshing sorbet at the peak of citrus season, when there are many tangerine varieties to choose from. Honey tangerines are certainly our favorite - their juice is a deep orange color, and their flavor is exceptionally rich and sweet - but Mineola, Satsuma, and Fairchild will be good too. Combine different varieties if you like; just be sure to keep as much pulp as you can when you strain out the seeds.

About 5 pounds flavorful tangerines, preferably Honey, to make 1 quart juice
1 cup less 1 tablespoon sugar
Fresh lemon juice (optional)


Finely grate the zest of 1 tangerine, being careful to avoid the bitter white pith. Juice the tangerines and strain out the seeds, keeping as much of the pulp as you can. Place the sugar and 1 cup juice in a non reactive saucepan.
Cook over medium heat until the sugar is completely dissolved, stirring constantly. Combine with the remaining juice and add the zest. If the flavor needs to be brightened, season to taste with a few drops of lemon juice, then chill thoroughly.
Freeze the sorbet according to the manufacturer's directions for your ice cream maker.
makes 1 Quart

visit Quark's Bar and Holo-Lounge Deep Space 9

Atlanta Sherbet Cocktail


Chill cocktail glass. Prepare as follows:

In pre-chilled cocktail shaker combine

3 oz Japanese whisky - Suntory Royal
½ oz turbinado sugar
5 drops Mandarine Napoleon

Shake with fresh snow. Throw your biceps into high
gear and push the accelerator down to the floor board.

Strain into chilled cocktail glass.
Source: -Mixilator

Sun Worshiper Ambrosia

Ingredients


· 1 fresh coconut
· 1 1/2 cans crushed pineapple, with juice
· 2 apples, chopped
· 1/2 cup pecans, coarsely broken
· 6 tangerines
· 2 fresh pears, diced
· 2 bananas, sliced
· sugar to taste
· cherries and/or almond slivers for garnish

Grate coconut in bowl. Add peeled and sectioned tangerines; discard membrane and seeds. Add pineapple, apples, pears, bananas, and nuts. Sweeten with sugar, being careful not to add too much as the syrup from the fruit is usually sufficient. Chill before serving. This salad is pretty garnished with cherries and served in a crystal bowl. If a dessert, top with a dollop of Chantilly Cream.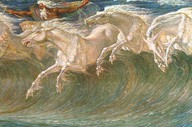 Kerouac Cocktail




Makes 1 drink

1 3/4 ounces reposado Tequila
1/2 oz Aperol
1/2 oz Combier orange liqueur
1/2 fresh lemon juice
3/4 oz fresh grapefruit juice
1 dash agave syrup
Grapefruit peel, for garnish


Instructions: Combine all the ingredients, except the garnish, in a cocktail shaker. Fill with ice, shake and strain into a chilled cocktail glass. Garnish with a small piece of grapefruit peel.

From Kevin Diedrich of Burritt Room

Dine From The Rainbow

Metals radiating Orange: Selenium, Iron, Calcium, Nickel, Zinc [not advised for healing uses], Rubidium, Manganese.

Foods: Most orange skinned vegetables and fruits; apricot, cantaloupe, carrot, mangoes, mustard, orange, orange bell peppers, orange tomato, papaya, peach, persimmon, pumpkin, spaghetti squash, sweet potato, tangerine, yam.
Try a Tangerine Margarita, Kate Cardigan special, from TEK WAR

RETURN The Zeppelin Diner


right, St. Tangerine - ck TBL magazine - Theramin Solo July 17, sonic architecture at the Kingdome in Seattle 13:55

Tangerine Dream - Ridley Scott Legend Prologue (Rare) - Tangerine Dream homepage
Ridley Scott Legend OST - The Unicorn (Album Version) - Star Menu Tom Cruise in Legend

Essential Oils to the Rescue For Stress
Marjoram, lavender, clary sage, tangerine, bergamot, ylang ylang, rose, neroli, petitgrain

For stress, use first in a bath, then massage and finally in a diffuser. Try the following blend in a bath:
Marjoram 6 drops - Lavender 4 drops - Tangerine 5 drops

Dosage will make one aromatic bath mixed in with ½ oz of hazelnut oil. Not only will you come out feeling more relaxed, but your skin will have a glowing softness to it. This blend of oils can also be added to a diffuser.
A diffuser is a device which disperses essential oils into the air in a fine mist over a wide area. Just a few drops of essential can be dispersed over many square feet.

find a local food bank in your area

10 Forward Trek galley, Bat Cave, Colour Us Inn, Indiana Jones Menu, Innholders' Company, It's All In The Sauce, Jupiter Table,
magic spice, Mercury Table, Oracle's Lab, shrmx, Smoothie, Starshine Inn -Star Wars, Tangerine, vittles, Western Inn, Zeppelin Diner

Top | Abramelin | Alchemy | Ancient Oracle | Articles | Artists ~ Rock & Roll | Astrology | Astroscape | Aura | Babylon 5 | Beat | beatles | Bus | Candles | Colour Waves | Constantine | Deva | Divination | Dowser | Early Heraldry | FAQ | Gladiator-Champion-Fighter | Haight-Ashbury | Heartwarmer * Bread & Roses | Hip | Hobbit Dowser - Nyll Greenwood | Hogwarts | House System * Sacred Tarot | Internal Spectrum | Lab | Mandala | Mask-Who Was That Masked Man? | Masked World | Matrix | Meditation Index | Middle-earth Inn | Mirror | Mountain | Mystique | Neutrals | Number 1-9 | 11-22-33 | Palm | Parapsychology | Phoenix | Quiz | Sacred Place | Shrine | Site | Sixth Sense | Son of Spooky | Space | Star Chart (by Zodiac) Listing | Star Trek | Star Wars | Still Zone | Stonehenge | Tao | Transcription breaks | Transform | Tutoring | Unicorn | Unknown Museum | Unnumbered Tarot | Us | US Time | Valentine | Vote Star Charts | Wall | Wands | Whale | Wizard | Your Elf | Zone

This page has been visited a gazillion times.